Welcome to Nautical Technology Consultants AS
Nautical Technology Consultants AS (NTC) is a Norwegian-based maritime R&D, consulting and software company offering a range of services and products to the shipping and offshore industries worldwide.
Our flagship product is UKC Manager™ which is a software application based on NTC's technological solution for predicting dynamic reduction in under-keel clearance (ukc) prior to entering shallow waters and confined channels.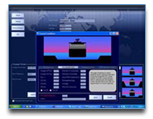 Passage Planner™ is a further development of our UKC management application and is based on the STCW Code regarding voyage planning as well as standard bridge procedures. Passage Planner™ can be tailored to meet any specific report set-up.